8:15 AM Posted In
Crochet Tutorials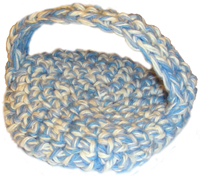 I am so guilty of buying sponges and tossing them a few weeks later once they've gotten a little...well, slimy. Recently I've looked into reducing my carbon footprint by making some scrubbies that can do just about any job around the house.
This all-purpose scrubbie from Rachel at Crochet Spot has a little handle on it and a thick pad, so it will do just about anything I tell it to.
Click "Comments" at the top of the post to share your thoughts.
---
Stay up to date on DIY Fashion by signing up for Rain's weekly newsletter, choosing to become a fan of DIY Fashion on Facebook, or following DIY_Rain on Twitter.
More Wordless