6:20 AM Posted In
Crochet Tutorials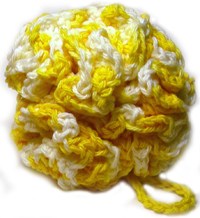 I recently went to the store to get a new puffy loofah thing and ended up spending ten bucks. Too bad I didn't see this quick and easy crochet pattern from Rachel at Crochet Spot. Could have had it for free.
Don't make the same mistake I did. This bath puff is a great beginner project and, -that's right- makes a great gift.
Click "Comments" at the top of the post to share your thoughts.
---
Stay up to date on DIY Fashion by signing up for Rain's weekly newsletter, choosing to become a fan of DIY Fashion on Facebook, or following DIY_Rain on Twitter.
More Wordless