7:00 AM Posted In
Crochet Tutorials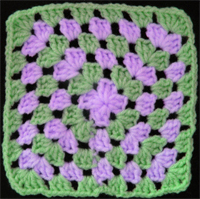 Is there any more classic crochet pattern than the granny square? You can use these for blankets, shawls...hey, just about anything that can be pieced together from a bunch of handmade squares. Rachel at Crochet Spot has an easy granny square pattern for us.
Click "Comments" at the top of the post to share your thoughts.
---
Stay up to date on DIY Fashion by signing up for Rain's weekly newsletter, choosing to become a fan of DIY Fashion on Facebook, or following DIY_Rain on Twitter.
More Wordless