6:24 AM Posted In
Crochet Tutorials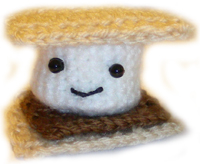 Amigurumi is one of the cutest things to come over from Japan. (okay, what isn't, really?) This s'more amigurumi pattern by Rachel at Crochet Spot will be the perfect addition to your desk or a lucky kid's play food set.
Click "Comments" at the top of the post to share your thoughts.
---
Stay up to date on DIY Fashion by signing up for Rain's weekly newsletter, choosing to become a fan of DIY Fashion on Facebook, or following DIY_Rain on Twitter.
More Wordless