7:00 AM Posted In
Crochet Tutorials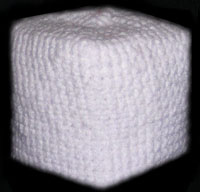 If you need to add a cube effect to your amigurumi or freeform crochet work, this cube tutorial from Rachel at Crochet Spot will get you started. My bet is that it will also inspire a million other projects. Who knew you needed a cube this bad?
Click "Comments" at the top of the post to share your thoughts.
---
Stay up to date on DIY Fashion by signing up for Rain's weekly newsletter, choosing to become a fan of DIY Fashion on Facebook, or following DIY_Rain on Twitter.
More Wordless