6:57 AM Posted In
Crochet Tutorials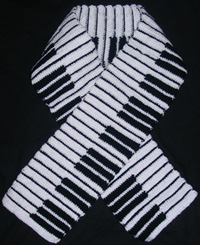 If you are looking for a unique scarf that isn't going to take ages to make, then this one is for you. Rachel at Crochet Spot has the free easy pattern for this musical scarf.
Know someone who plays the keys or just loves music? What a great gift.
Click "Comments" at the top of the post to share your thoughts.
---
Stay up to date on DIY Fashion by signing up for Rain's weekly newsletter, choosing to become a fan of DIY Fashion on Facebook, or following DIY_Rain on Twitter.
More Wordless