7:00 AM Posted In
Crochet Tutorials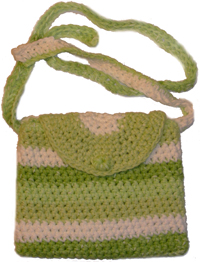 Rachel at Crochet Spot has put together this simple pattern for a purse with a shoulder strap. This one is great for beginners, but it's super cute, so you experts might want to give it a try.
Click "Comments" at the top of the post to share your thoughts.
---
Stay up to date on DIY Fashion by signing up for Rain's weekly newsletter, choosing to become a fan of DIY Fashion on Facebook, or following DIY_Rain on Twitter.
More Wordless