7:00 AM Posted In
Crochet Tutorials
,
Knitting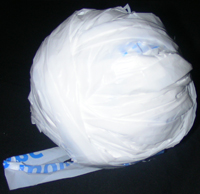 I have so many plastic shopping bags at my house that we even bought a dispenser to hold them. Recently, I found out a new way to put them to good use until I get my reusable cloth shopping bag situation under control.
You can easily link shopping bag material to make a kind of yarn. This yarn can be used to make just about anything, from a reusable parka to... you guessed it... a shopping bag.
Click "Comments" at the top of the post to share your thoughts.
---
Stay up to date on DIY Fashion by signing up for Rain's weekly newsletter, choosing to become a fan of DIY Fashion on Facebook, or following DIY_Rain on Twitter.
More Wordless